A Recipe for Great Sleep— Enjoy Rest Chamomile Honey Tea Latte

Do you wake up feeling rested? Or, like so many of us, do you feel groggier than before you fell asleep? Our country struggles with sleep— 27% of Americans have trouble falling asleep or staying asleep most nights, and 68% struggle at least once a week.
Fortunately, there are things you can do to promote healthy sleep— establishing good sleep routines, cutting out black light, and turning to natural sleep aids. 
Herbal teas, chamomile in particular, have been used to help people unwind and fall asleep for ages. Chamomile contains an antioxidant called apigenin, which affects the part of your brain responsible for anxiety and stress, calming you and allowing you to fall asleep easier.
Drinking chamomile tea after dinner can help you decompress and wind down for the night. (It even promotes healthy digestion!) One of our favorite ways to enjoy chamomile tea is in a Chamomile Honey Tea Latte. 
Our Chamomile Honey Tea Latte recipe is easy to make and will help you destress and relax! You'll only need four ingredients— Enjoy Rest tea, water, honey, and milk. (You can use any chamomile tea in this recipe, but keep in mind that the quality of tea impacts the latte's taste.) 
Enjoy Rest adds beautiful cinnamon and apple notes to the traditional floral and earthy chamomile flavors. Combine that with sweet honey and rich, creamy milk, and you have a latte that tastes delicious and soothes your mind and body.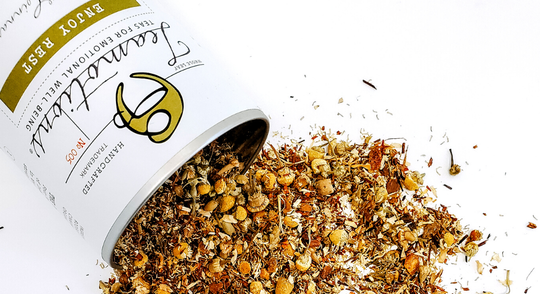 To top it off, Enjoy Rest also includes ashwagandha, an adaptogen herb that restores balance to the body, reduces inflammation, and decreases stress, putting you into the perfect state of relaxation to promote quality sleep!
Try it out for yourself by following this recipe:
Enjoy Rest Chamomile Honey Tea Latte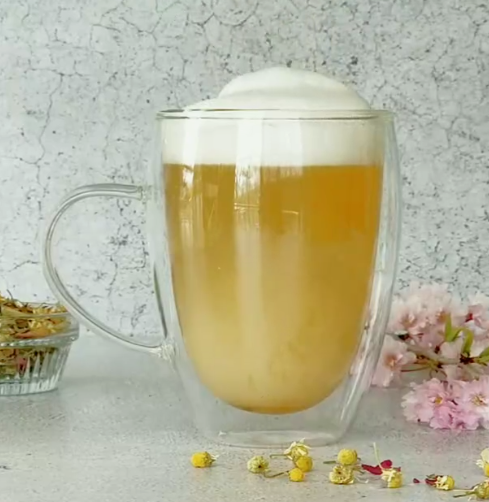 Ingredients
1 tsp Enjoy Rest tea
8 oz hot water (195-degree), to prepare tea
1 tsp honey, adjust amount to your tastes
2 oz milk (or dairy-alternative milk)
Directions
Brew Enjoy Rest tea, leaving space in your mug for milk. (Read our tips for how to brew the perfect cup of tea). Set aside to steep for five minutes. 
Heat and/or froth the milk the way you'd like it.
When your tea is done steeping, add as much (or as little) honey as you want, until it's sweet enough to suit your tastes. 
Add your milk.
For extra relaxation, enjoy the latte while listening to music, curling up with a good book, or spending time with your family— whatever brings you peace and tranquility! Sip and savor it while you let yourself unwind from the day. 
Want the best sleep possible? Whip up this delicious tea latte and try our three techniques to quiet your mind and get to sleep. You'll be on your way to better sleep before you know it!