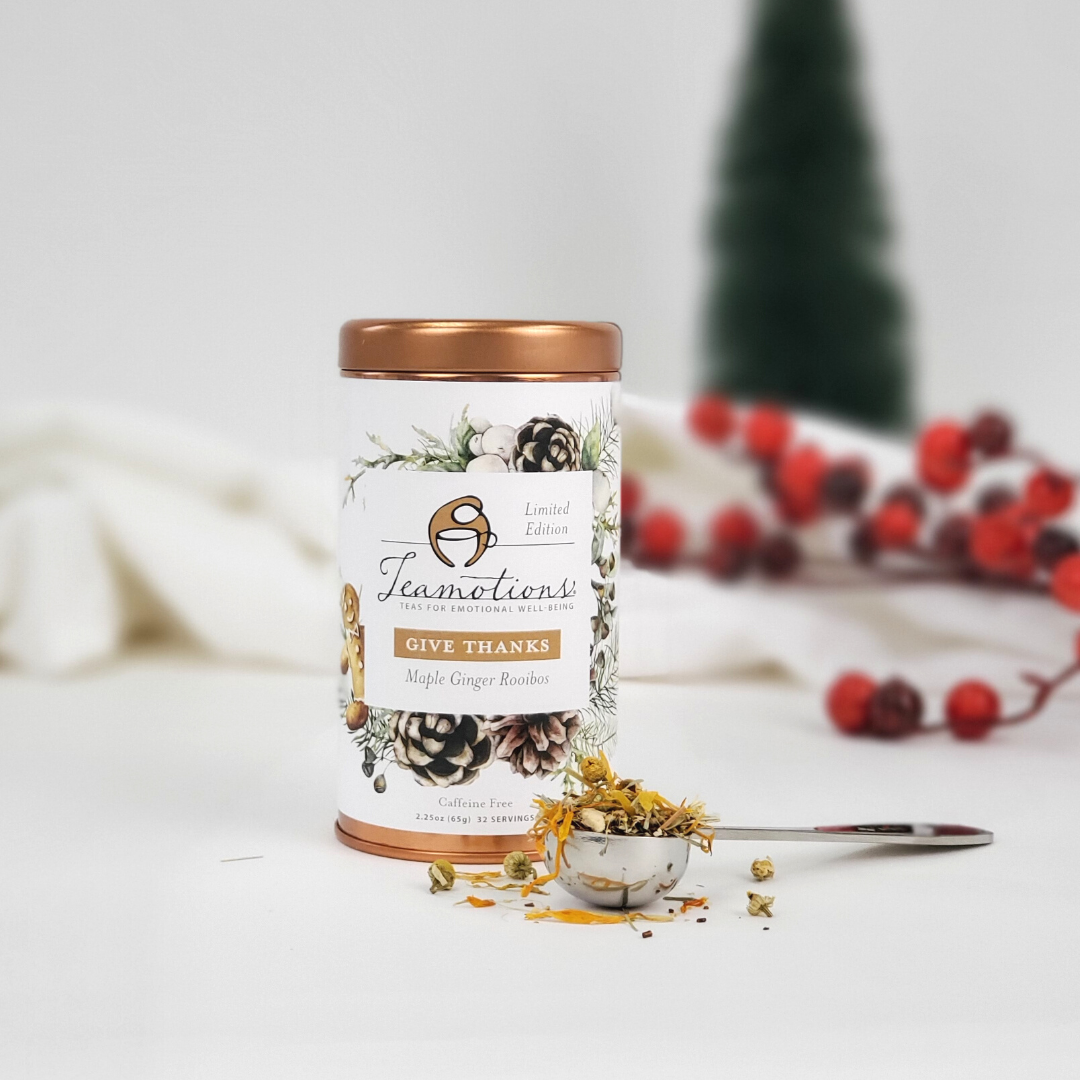 "I adore this blend when I need to relax and destress." —Roxanne A., Teamotions Give Thanks customer
-----
GIVE THANKS
Maple Ginger Rooibos (Caffeine-free)
Cultivate gratitude this holiday season with soothing chamomile and calming oatstraw in a harmonious blend of red and green rooibos, sweet maple, and ginger.
Chamomile and oatstraw have been used for centuries to calm nerves, restore balance, and foster rest.
**IMPORTANT: Due to the high demand for this tea, we have sold out! Please join the waitlist below to be notified when the item is back in stock.* *
Your Price:
$27.95
Expected restock date: Early November
Smooth rooibos with a subtle ginger taste and a hint of maple sweetness.

To inspire gratitude and restore emotional peace and harmony.

Helps you unwind and re-center
Full of vitamins and minerals
Calming, relaxing, and restorative

Caffeine-free
Rejuvenates and nourishes physically and emotionally to combat the overwhelm of the holidays

Oatstraw contains B-vitamins which support the body's ability to recover from stress and minerals that soothe anxiety and restore calmness
Chamomile has been used for centuries to calm the nerves and promote sleep

Organic Rooibos, Organic Green Rooibos, Organic Ginger Root, Organic Oatstraw, Organic Chamomile, Organic Merigold Petals, Natural Flavor.





Rooibos

: Naturally caffeine-free. Full of antioxidants, vitamins, and nerve-calming minerals such as zinc, copper, calcium, manganese, magnesium, and potassium. Nutritious and non-stimulating.

Chamomile

: Calms the central nervous system and the digestive system. Promotes sleep and reduces anxiety. Effective relaxant for all ages. Safe and delicious.

Oatstraw

: Nourishes and rejuvenates the nerves, alleviating feelings of anxiety and stress as well as emotional disturbances such as grief, fear, or exhaustion. Oatstraw can be used on a daily basis for any nervous disorder. Its nutritive content of calcium, potassium, magnesium, zinc, and the B-complex vitamins strengthens a weakened nervous system and restores well-being.

Ginger

: Stimulates circulation and is warming to the body. Clears the microcirculatory channels of the body to facilitate better absorption of nutrients and better elimination of wastes. Has the ability to enhance the healing properties of other herbs.

Pour 8 oz. of 195-degree water over one rounded teaspoon of loose tea. Steep for (5) five minutes. Re-steep for another delicious and beneficial cup.

Self-care for mind, body, and soul.

TEAMOTIONS TEAS SUPPORT THE FULL SPECTRUM OF EMOTIONS,
OFFERING COMFORT AND INSPIRATION IN ANY CIRCUMSTANCE.
Blended with scientifically supported adaptogen herbs and botanicals, each blend helps boost immunity, improve the body's response to stress, and restore well-being in every way. Used daily our teas will make a positive difference in how you feel.
Try it today and see what Give Thanks can do for you.
What are people saying about Give Thanks?

Disclaimer: These statements have not been evaluated by the FDA. They are not intended to prevent, diagnose, treat, or cure any disease or disorder. Always consult your doctor prior to the consumption of herbs of any kind, especially if pregnant, nursing, or taking prescription medications.