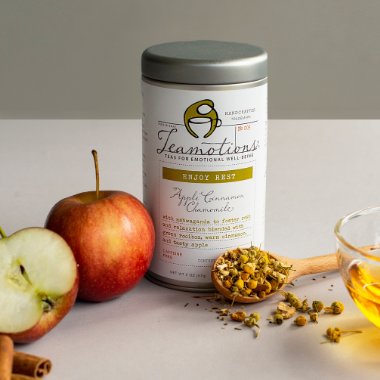 "It tastes amazing and helps me and my husband sleep soundly."—Sarah., Enjoy Rest customer
-----
ENJOY REST
Apple Cinnamon Chamomile (caffeine-free)
Relax and unwind with ashwagandha and chamomile in a blend of red and green rooibos, warm cinnamon, and tasty apple.
Ashwagandha is effective in relieving stress-induced insomnia and fatigue, and chamomile has been used for centuries as a natural relaxant.
**IMPORTANT: Due to the high demand for this tea, we have sold out! Please join the waitlist below to be notified when the item is back in stock.* *
Your Price:
$25.95
Expected restock date: Early November 2021
Fosters rest and relaxation
Calms and soothes to aid in recovery from both emotional and physical exhaustion
Helps induce sound, restful sleep
Nourishes the body and mind
Caffeine-free

Smooth and fragrant with notes of sweet apple and warm cinnamon.

Ingredients And Their Uses

Organic Chamomile, Organic Rooibos, Organic Green Rooibos, Organic Orange Peel, Organic Ashwagandha, Organic Cinnamon, Natural Flavors.





Chamomile

: A calming herb used for centuries to promote sleep and reduce anxiety.

Red and Green Rooibos

: A naturally caffeine-free herb from South Africa that is full of antioxidants, vitamins, and minerals (zinc, copper, calcium, manganese, and potassium). It is anti-inflammatory and stimulating to the circulatory system and organs. Aids in the flow of energy.

Orange Peel

: High in vitamin C.

Ashwagandha

: Adaptogen herb from India that restores balance to the body. Decreases physical, emotional, and mental fatigue. Promotes calmness and mental satisfaction. Reduces inflammation and decreases stress. Provides nourishment to the brain for better functioning capability. Helps to curb mental and physical weakness. Boosts your immune system and promotes overall wellness.

Cinnamon

: Helps to improve energy, vitality, and circulation. A great source of manganese, fiber, iron, and calcium. Smelling cinnamon boosts cognitive function and memory.

We recommend drinking Enjoy Rest an hour or two before bed or anytime you need true rest.




Brewing instructions: Pour 8 oz. of 195-degree filtered water over one rounded teaspoon of loose-leaf tea. Steep for five (5) minutes. Re-steep for another delicious and beneficial cup.




Our little tip: As you sip, put your feet up or get cozy with a blanket and good book. Find a quiet place without distraction and enjoy a moment of true rest.

Self-care for mind, body, and soul.
TEAMOTIONS TEAS SUPPORT THE FULL SPECTRUM OF EMOTIONS,
OFFERING COMFORT AND INSPIRATION IN ANY CIRCUMSTANCE.
Blended with balancing adaptogen herbs and nourishing botanicals, each blend helps boost immunity, improve the body's response to stress, and restore well-being in every way. Used daily our teas will make a positive difference in how you feel.
Try it today and see what Enjoy Rest can do for you.
ENJOY REST
Apple Cinnamon Chamomile (caffeine-free)
100% No-Risk Money Back Guarantee

What are people saying about Enjoy Rest?