Blended with adaptogen herbs to help support yourself naturally after loss.
Strengthen Your Stress Response
(60 Day, 100% Money Back Guarantee)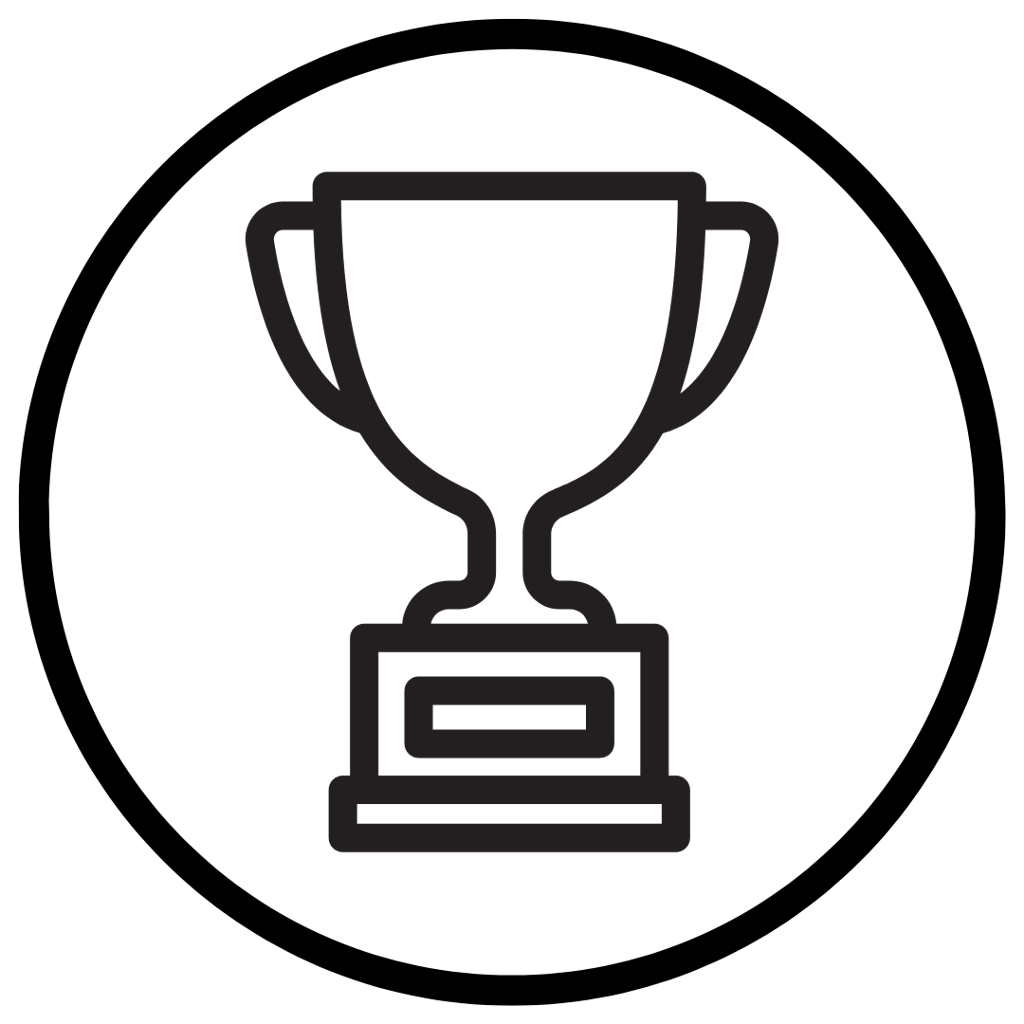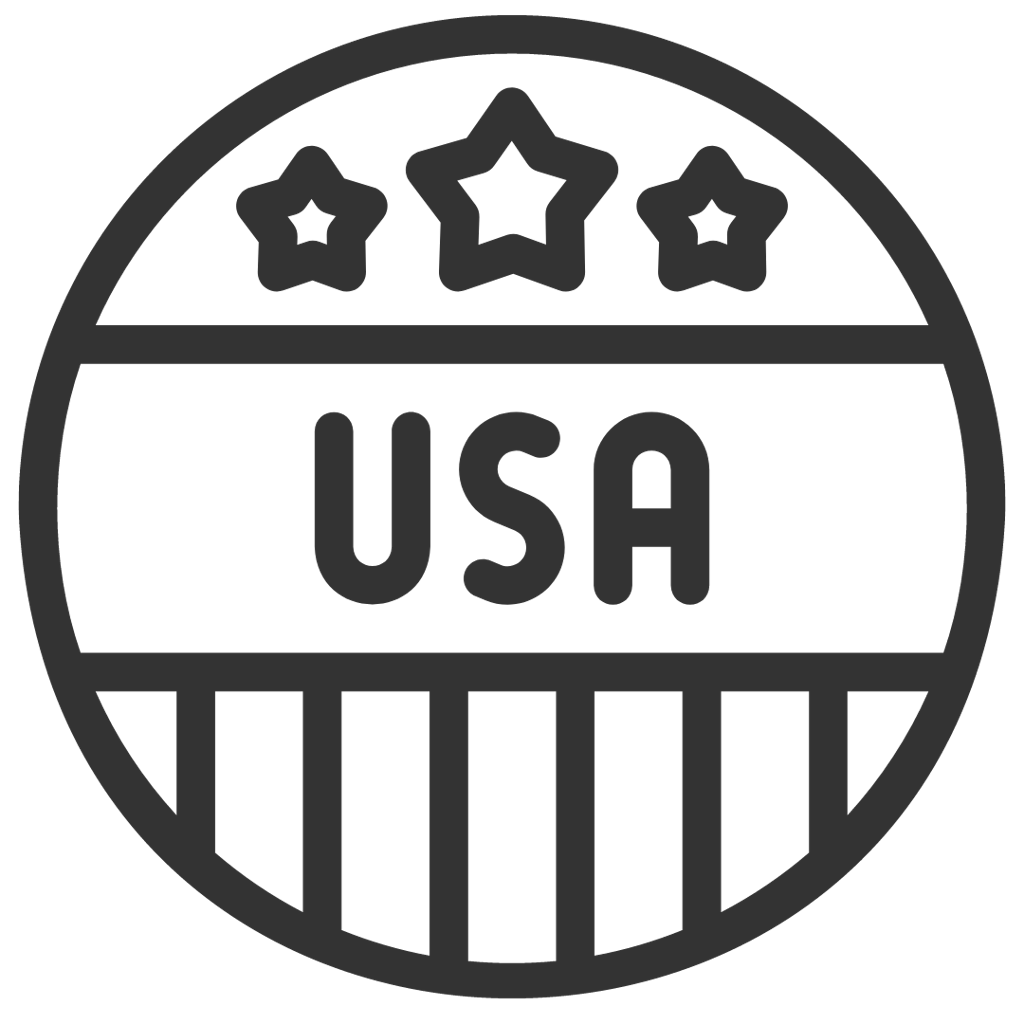 Get Immediate Comfort and Relief in Every Sip
At Teamotions, we've intentionally formulated every tea blend with the adaptogens, superfoods, and healing herbs your body needs to recover from grief's physical toll of emotional stress.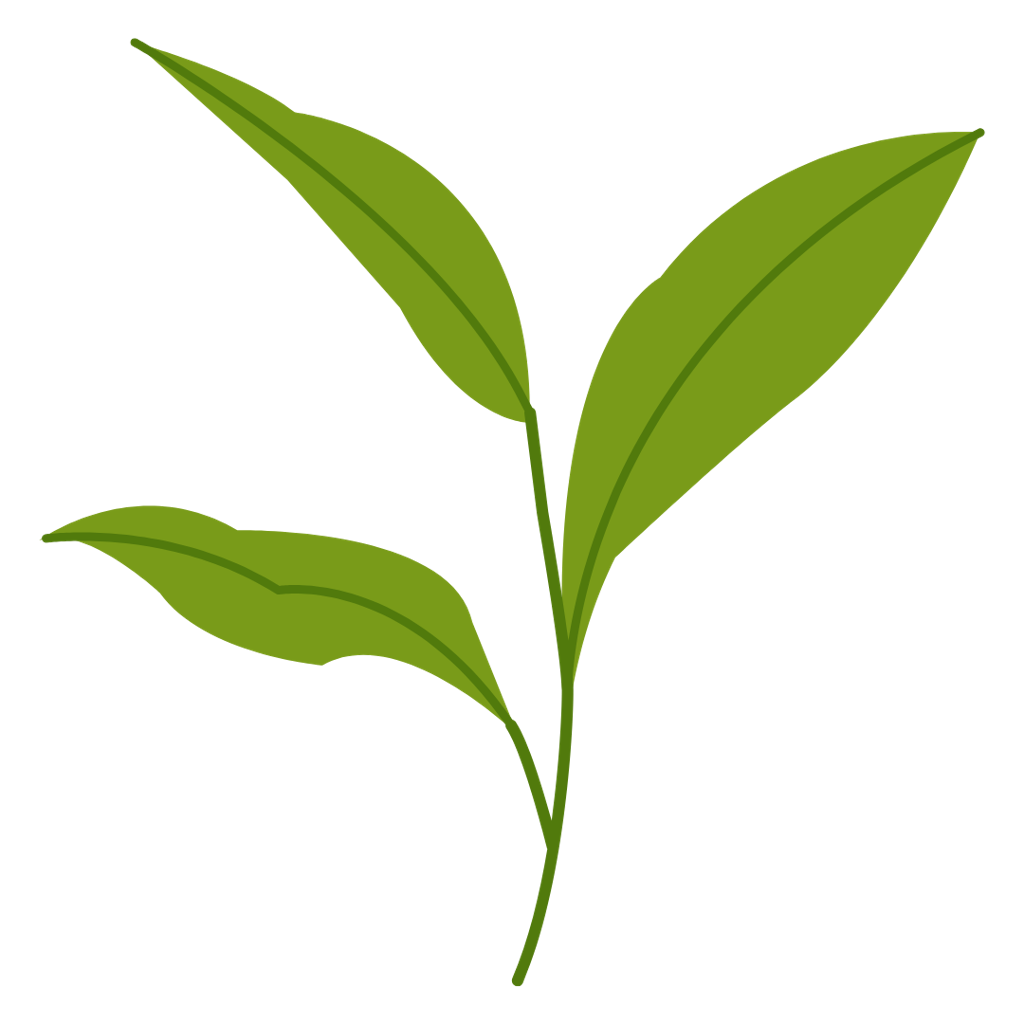 We use only the finest, organic, whole leaf tea as the base of each blend to create the most emotionally nurturing tea-drinking experience possible that could never be provided by a capsule or tincture.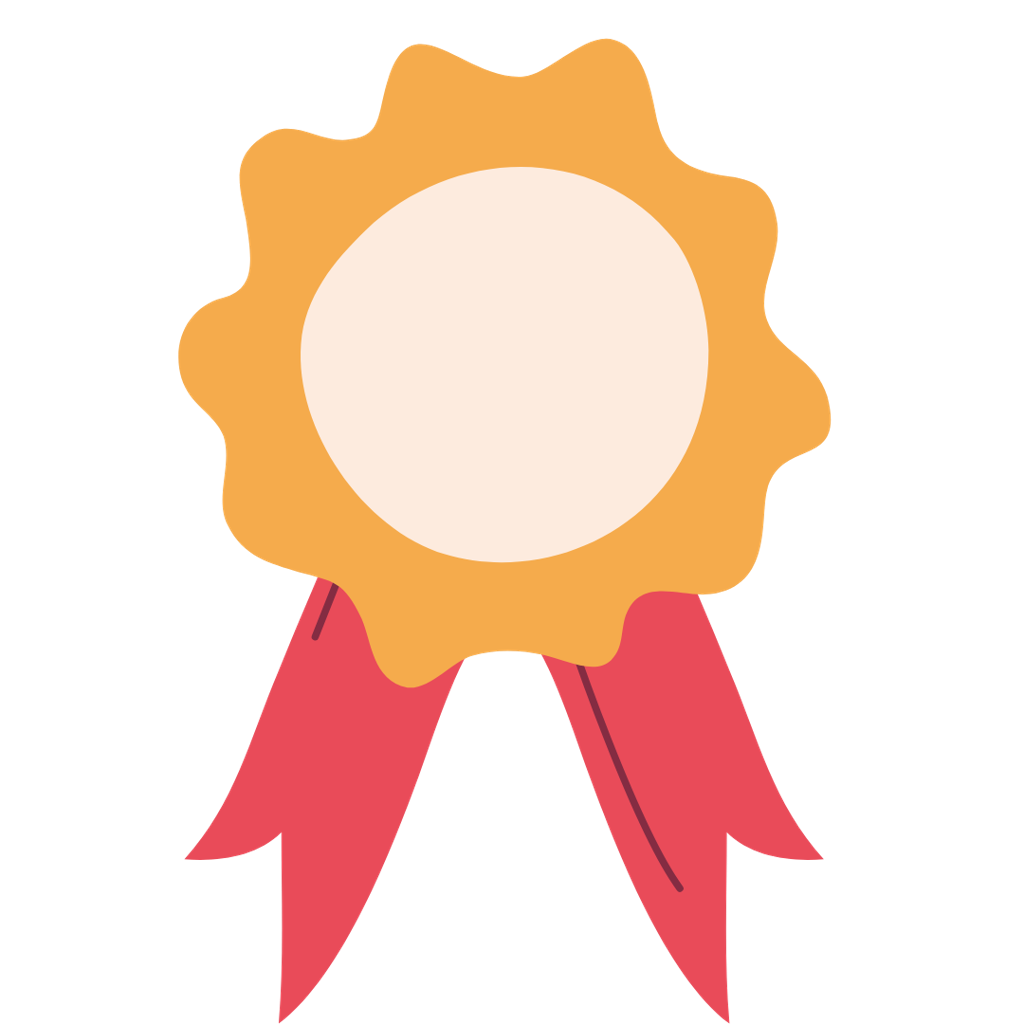 A truly comforting tea has to taste amazing, so we created award-winning flavor profiles for each blend so that every sip is as enjoyable as it is beneficial.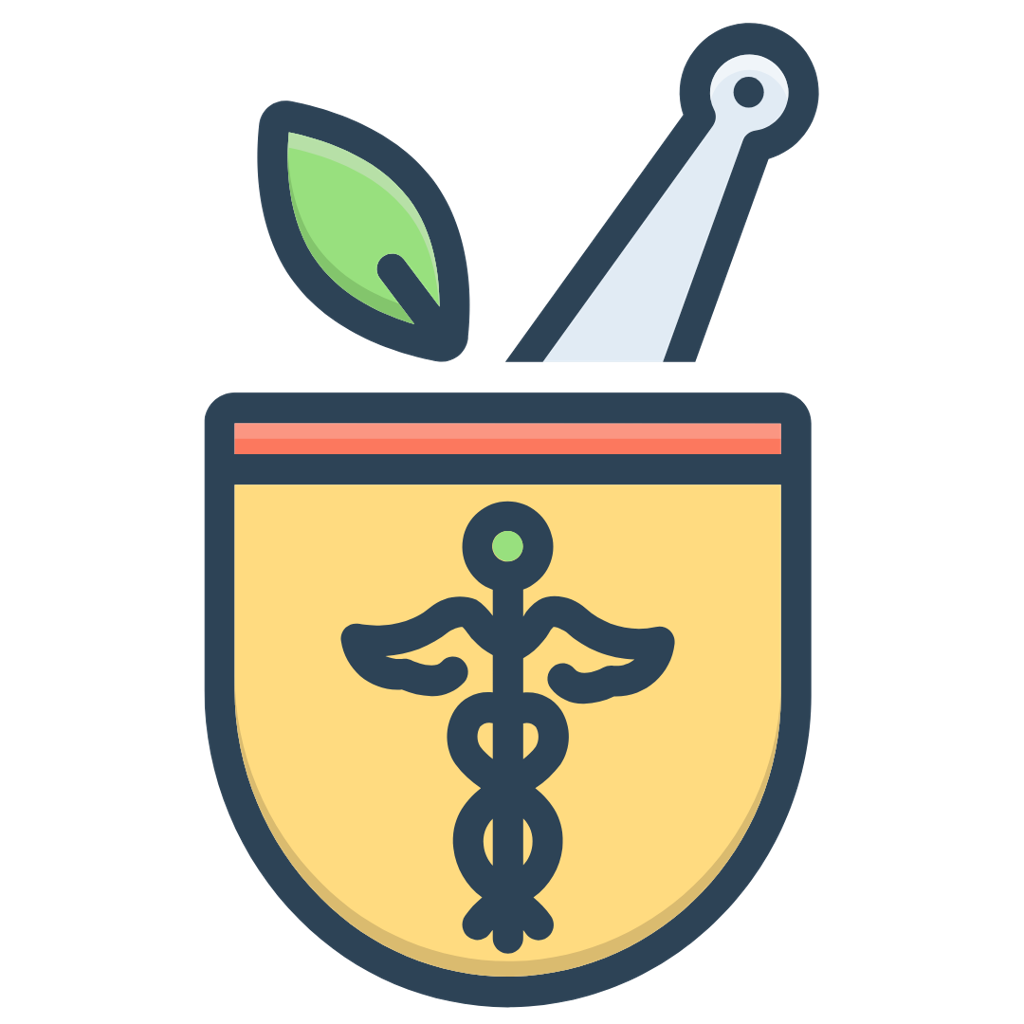 To support and rebalance all systems of your body from the physical effects of emotional stress we use a unique blend of strengthening adaptogens, nourishing superfoods, and healing herbs in each tea.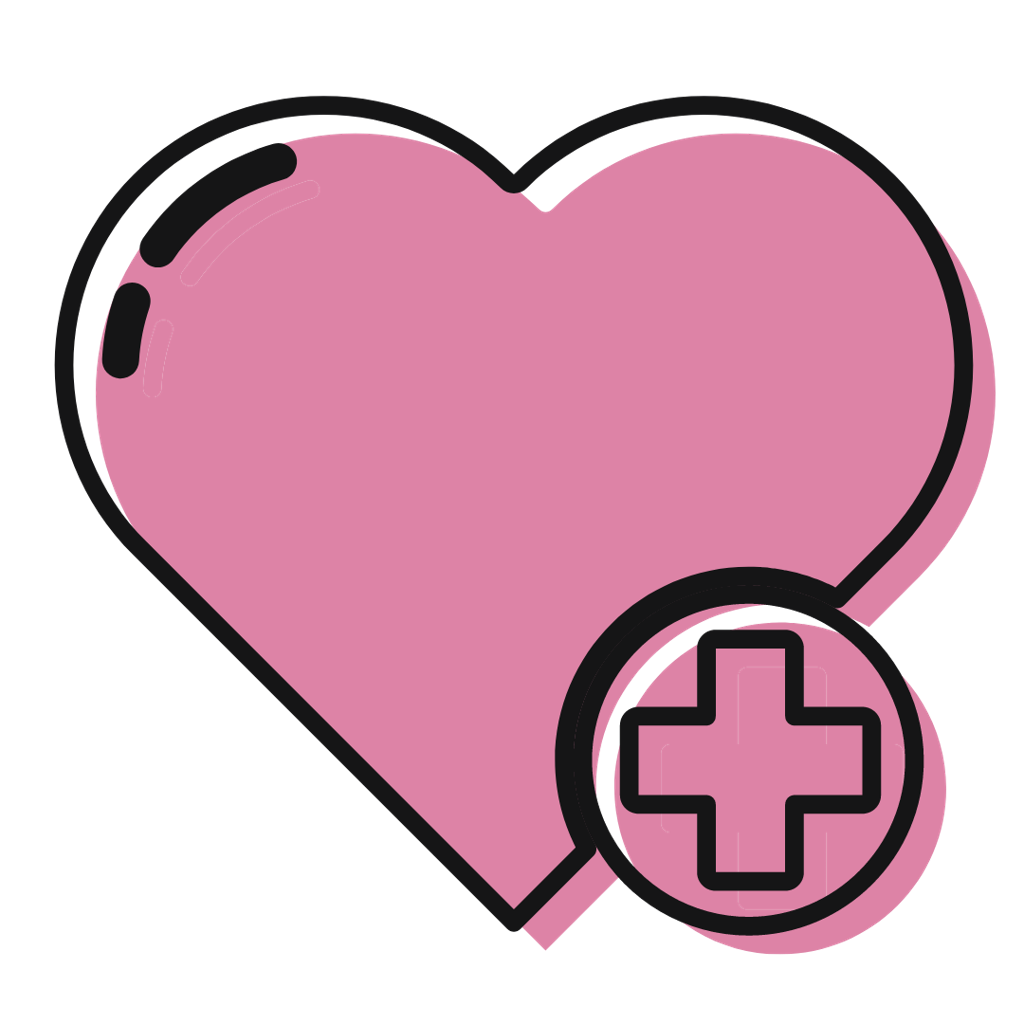 The unique blend of ingredients chosen for each tea are backed by science and offer time-tested benefits that last long after you've finished your cup.
(Ships From Ojai, California)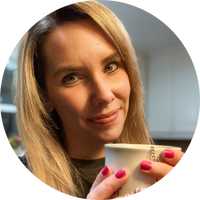 - Ashleigh S.
Verified Buyer ✔︎
"I had first heard of Teamotions after having a miscarriage in 2011, however I wasn't much of a tea drinker back then. Over the last couple of years I have learned to enjoy a warm/hot beverage and was looking for something that would help with my mental and emotional well-being. I don't think I would have made it through 2020 without the help of these teas."
- Ashleigh S. Verified Buyer ✔︎
Simple, Quick and Delicious!
Simply choose your tea, scoop it into your teabag, add water and steep until it is ready to drink.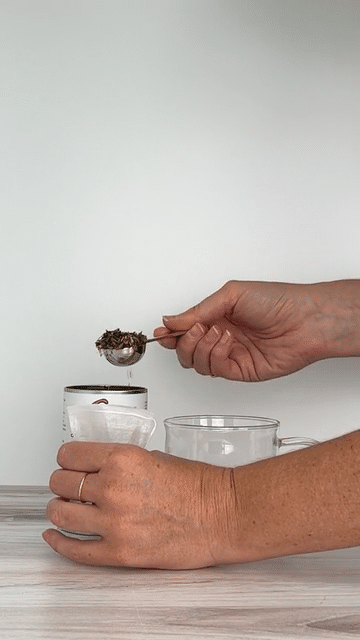 Scoop loose tea to the teabag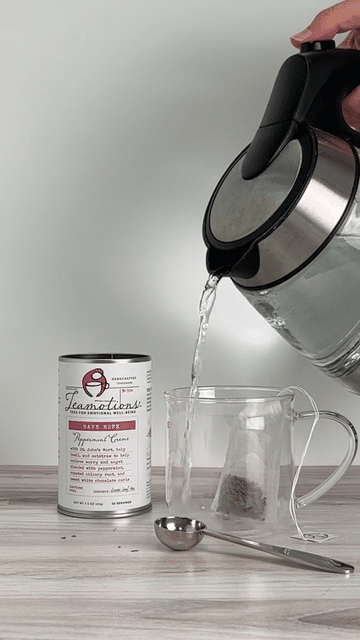 Add teabag to your cup and pour water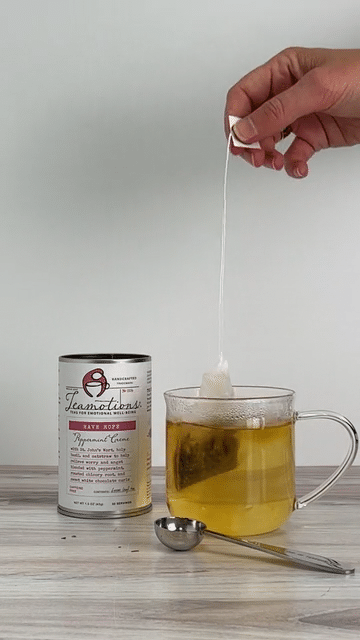 Steep the teabag until done
ADAPTOGENS (a·dapt·o·gens): powerful botanicals that help your body respond to stress, anxiety, and fatigue to restore and support overall wellbeing. Adaptogens bring your body back to a steady balance by strengthening your body's response to both physical and emotional stressors.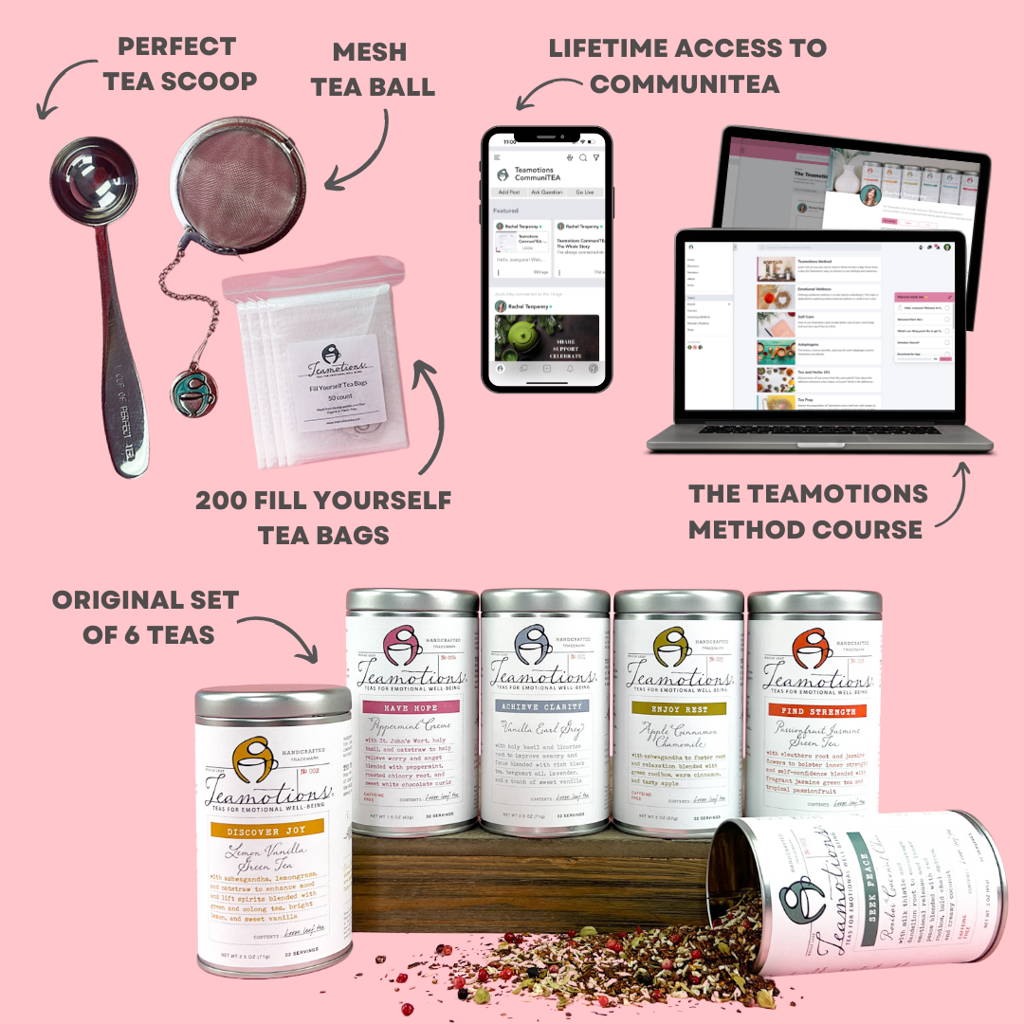 Teamotions is Perfect For You If..
You want mental clarity instead of brain fog

You want to feel more joy and happiness

You want to feel peaceful instead of angry

You want to feel hopeful instead of anxious

You want to get better sleep and feel rested

You want more inner strength and confidence
(60 Day, 100% Money Back Guarantee)
How Teamotions is Different
Most teas are blended by machines using non-organic ingredients, with no way of knowing exactly where they come from, and they taste tolerable at best. Here's how Teamotions compares: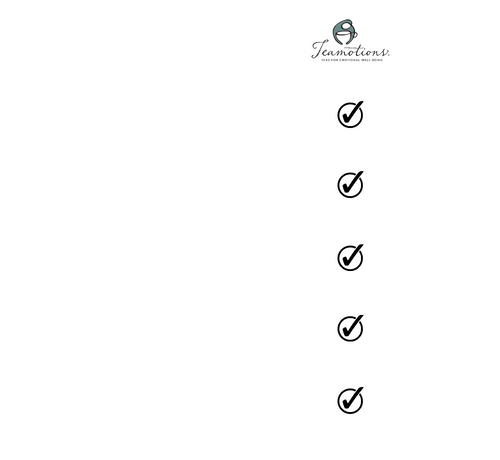 💕 We believe healed people heal people. When you put your heart first and heal, you too can become a source of comfort, inspiration, and healing to others as well.

That's why everything we do at Teamotions reflects our heartfelt commitment to the well-being of others. It is our goal to help you access the support and tools you need to take the best possible care of yourself; mind, body, and soul.
By helping you learn how to tend to your heart every day over a cup of tea you'll be reminded of your immeasurable value and feel inspired to share that value with others!
This pay-it-forward mentality is the essence of Teamotions. Every cup of tea is made more meaningful when it is used or given in the spirit of kindness and transformation. Lives are changed in the most powerful way - from the inside out.
We invite you to make Teamotions a part of your life and honor your heart every day!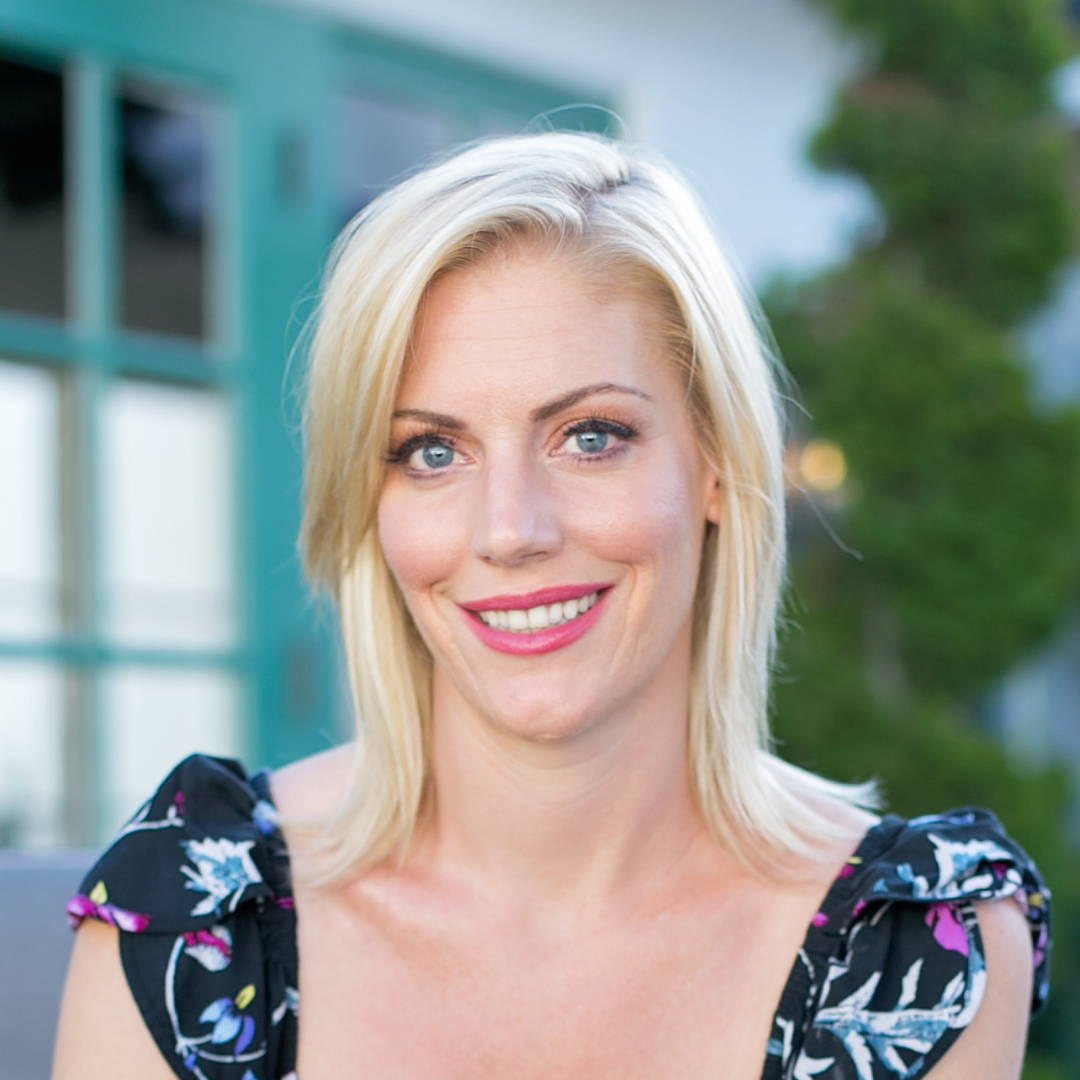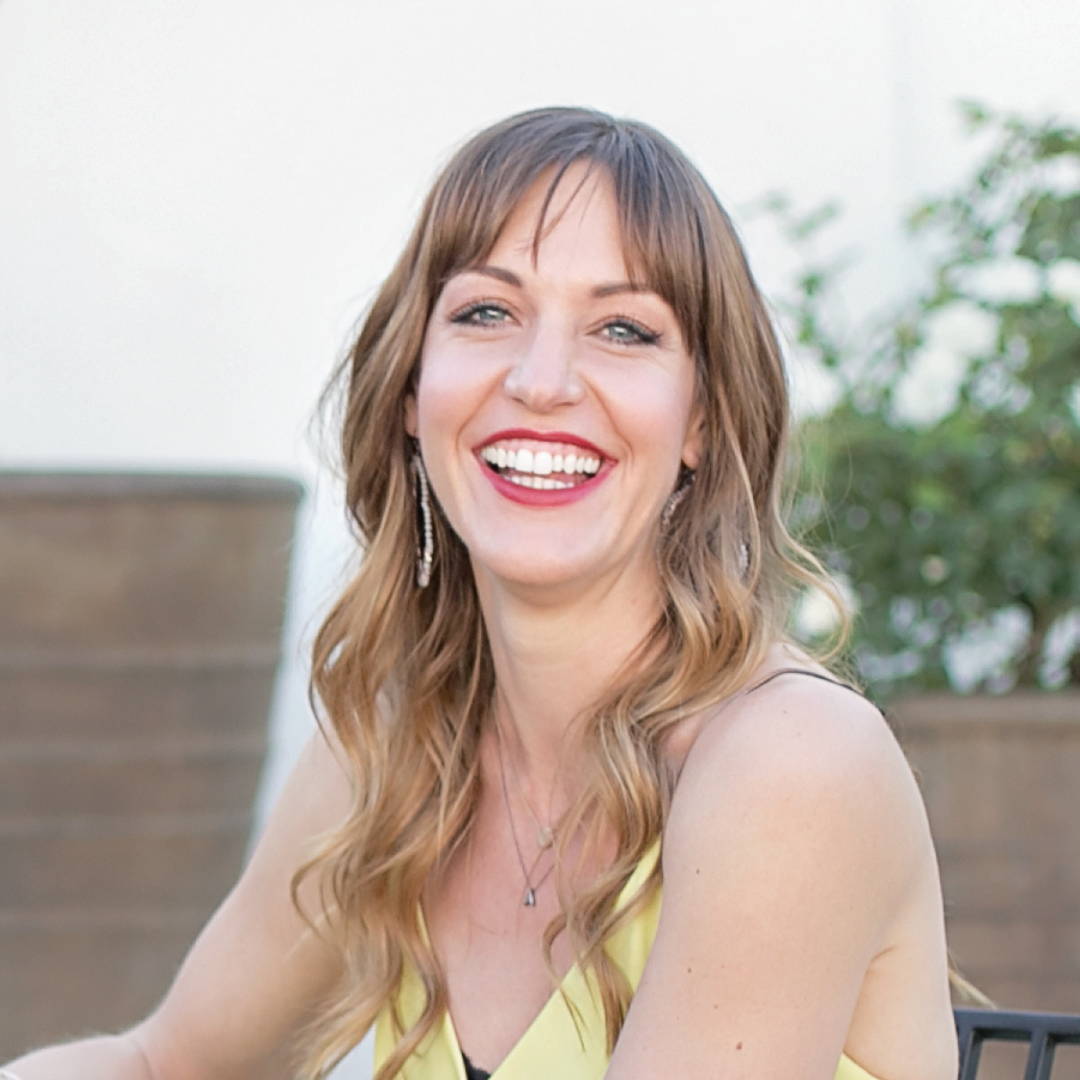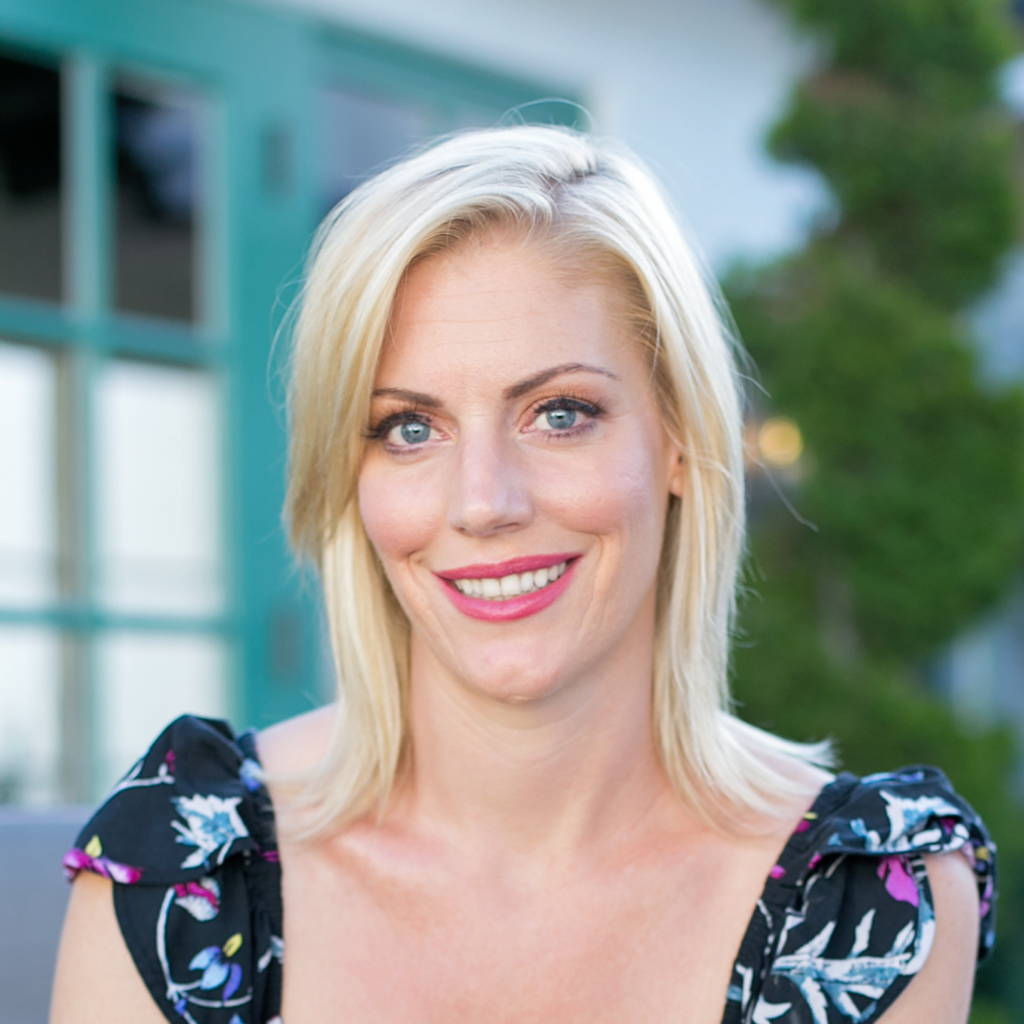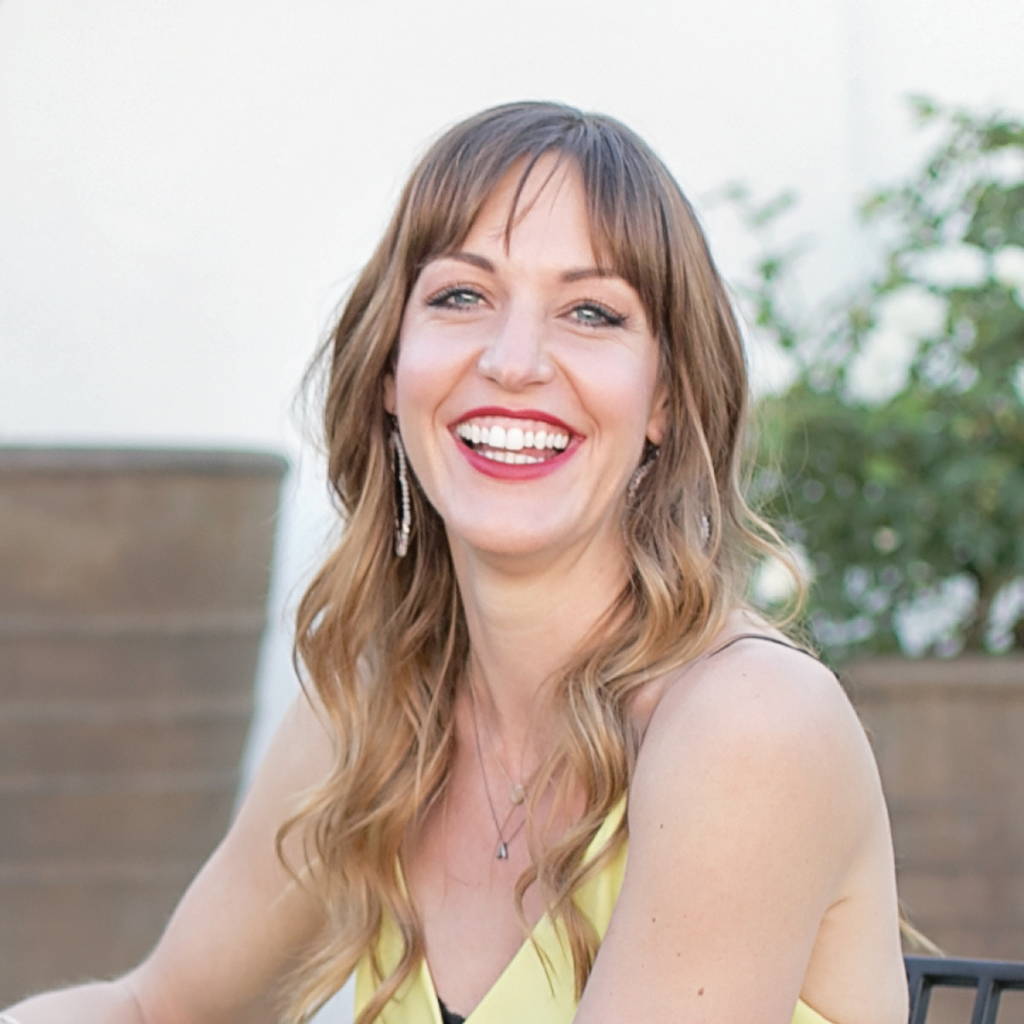 (60 Day, 100% Money Back Guarantee)
Below are reviews from real Teamotions customers
(60 Day, 100% Money Back Guarantee)
If you don't feel comforted and supported with every sip within 60 days you can get a refund. No questions asked.
Are Teamotions teas organic?
Yes, all of the tea and herbs used to make our Teamotions teas are organic.
Are Teamotions teas gluten free?
Yes, but some of our teas contain an herb called Oatstraw that may contain gluten due to cross-contamination with wheat during processing. Oatstraw is usually grown near wheat fields and therefore may cross-contaminate. The odds are minimal, but if you have a severe allergy or Celiac disease, drink with caution.
Where are Teamotions teas made?
We proudly hand blend and ship all of our teas in Southern California.
Can I drink more than one tea in a day?
Yes, of course! Teamotions teas work synergistically with each other. Drinking more than one type of tea a day will not negate the other but rather increase its benefits!
Are Teamotions teas safe during pregnancy and/or breastfeeding?
Yes. We blended our teas to be safe to consume while pregnant and/or breastfeeding*.
*Disclaimer: We are not doctors and cannot provide medical advice so please always ask your doctor before consuming our teas.
Can Teamotions teas be consumed cold?
Yes, Teamotions teas are delicious cold/iced! You will still receive the health benefits whether the tea is consumed hot or cold.
For a delicious cup of iced tea, we recommend the cold brew method. For every 8oz of room temperature water add 1 perfect tea scoop of tea in a pitcher or carafe. Place pitcher/carafe in the refrigerator and leave for 3-4 hours or overnight. Strain and enjoy!
What is the shelf life of your tea?
If kept in a cool, dry, dark place (like a cupboard) our tea will last 24 months. We blend tea every month, so you are always guaranteed fresh tea! We also put a Best By sticker on each product.
I saw "natural flavors" in the ingredient list. What does that mean?
The natural flavors in our tea are just that - flavors that have been extracted from natural origins and placed in a glycerin base to be mixed with our teas.
For example, if the natural flavor is a lemon flavor, it has been extracted from either lemon, lemon verbena, lemon balm, or any other natural product that you can get a lemon flavor from and then put into a glycerin base so it can be added to our teas.
(60 Day, 100% Money Back Guarantee)