Hope Springs Eternal in this Delectable Tea Blend
"Never lose hope. Storms make people stronger and never last forever." ― Roy T. Bennett
In the darkest of days, hope can light a fire, lift us up, and remind us of the beauty in the world—even when it's hard to see.  
When you are down, depressed, grieving, or struggling, hope is the bridge to the other side. But what do you do when you can't find hope? When everything weighs on you and you lose sight of your optimism and spirit? 
We don't want anyone to feel that way! That's why we created Have Hope—a tea designed to relieve worry, fear, and angst so that you can regain hope for a better today, tomorrow, and the future.  
Relieving Grief and Living in Hope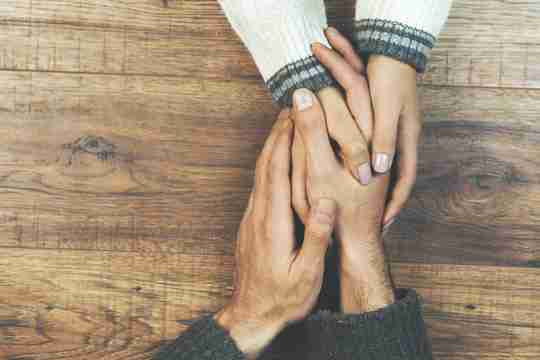 Have Hope was inspired by the fear and bargaining stage of grief. When you're in that stage, you can feel helpless, like the struggle will never end. But if you can calm the nerves and alleviate the fear, you can find your spirit again.
Without fear, the clouds will part and the sun will shine in your life again. 
Have Hope is our solution for parting those clouds—we crafted this tea specifically to relieve anxiety and fear so that you can see the good once again and remember that there is light on the other side.  
This caffeine-free tea uses powerful antioxidants and ingredients that replenish the vitamins and minerals that can fight off your fear and anxiety. 
Peppermint and spearmint are well known in Chinese medicine to "take the edge off," offering a state of pure calm and acceptance. 
Rooibos, a South African herb, helps relieve stress and calm the nerves, while Holy Basil preps the body to remain balanced and adapt to stress—delivering calcium, magnesium, zinc, and B vitamins to help your body in its battle with anxiety.  
The not-so-secret ingredient in this blend is St. John's Wort—nature's natural anti-depressant. It has been used throughout history to lift away the melancholy mood and bring a sense of peace and happiness.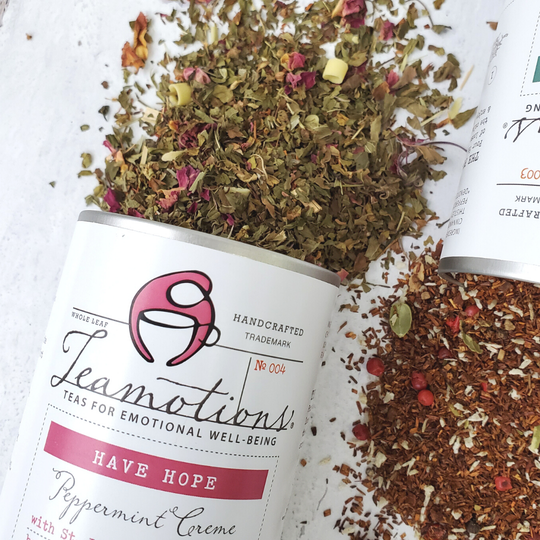 A Heavenly Blend of Complementary Flavor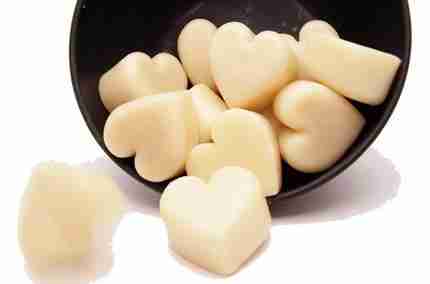 Even one sip of Have Hope starts to peel back the layers of grief. The real peppermint and spearmint leaves are vibrant, dancing in the mouth with the floral goodness of rose petals. Chicory root brings a nutty undertone, while organic white chocolate curls balance the bold flavors with just the right touch of creamy sweetness. 
Have Hope is delightful served hot or iced, a tea for all occasions. With no caffeine, you can even enjoy a cup right before bed to relieve your anxiety for a peaceful night's sleep.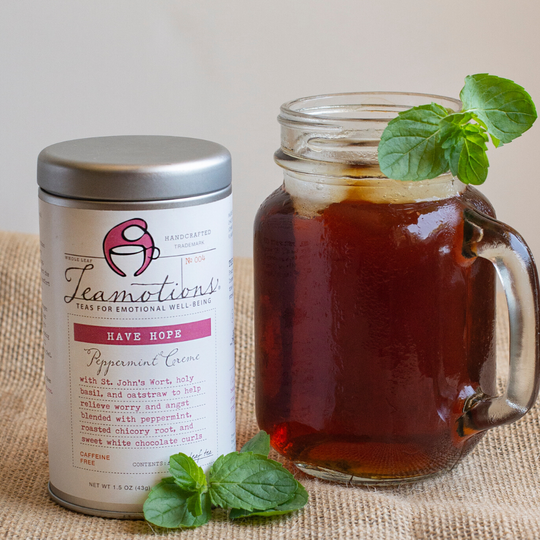 Hope isn't about never living in the darkness. It's about remembering how to make it out. Brew a cup and put on music that inspires you and encourages you. Allow your spirits to be lifted as you listen. 
Try our Have Hope Spotify playlist, ready to lead you on your path to inspiration and optimism. 
Remember that without love, there is no grief. Remember that the darkness is temporary. And remember that you are worthy of light, love, and hope. 
What Our Customers Say about Have Hope
⭐⭐⭐⭐⭐
"Not only does this tea taste amazing, it really helps balance my mood. I feel much better able to handle stress when I have my daily cup of hope." -Lisa
⭐⭐⭐⭐⭐
"We use Have Hope for our afternoon break from virtual school. It's the perfect way to reset and come together in the middle of a stressful day. Even the toddler loves this tea!" -Jennifer
Hope Waits for You
Today is the first day of the rest of your life—make the most of it with Have Hope!