3 Ways to Find a Daily Moment of Mindfulness

"Mindfulness isn't difficult. We just need to remember to do it." -Sharon Saltzberg
That's a lovely sentiment, but for most of us, "remembering to do it" isn't as easy as it sounds. 
Most of us lead busy lives. Running businesses, juggling soccer practices and diaper changes, paying bills, buying groceries, cooking— by the end of the day, crashing on the couch watching Netflix is all we can muster before bed. 
We want to be mindful, but it's hard to stop and focus on mindfulness when we're always on the go. 
Fortunately, mindfulness doesn't have to end your productivity or derail your day. Sometimes, the simplest few moments of mindfulness can make all the difference.
Read on to find three ways to find moments of peace, even if your life is full of pressure and demands.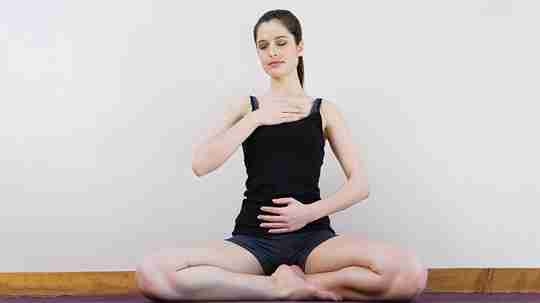 1: Belly Breathing
When's the last time you thought about HOW you breathe? Most of us move through the day taking short, shallow breaths without realizing it. But the art of belly breathing— taking deep breaths all the way into your diaphragm, can help relieve tension and increase oxygen flow. 
It also provides a much-needed moment of focus on the present— the perfect opportunity for a daily mindfulness practice. 
To give belly breathing a try, place one hand just below your ribs and the other hand on your chest. Breathe in deeply through your nose. (You should feel your ribcage expanding, pushing your hand out!) Then, push the air out through pursed lips (like a whistle)! Repeat the process 5-10 times. 
While you're belly breathing, focus on the pattern of the breath...in through the nose, into the belly, out through your mouth. Shut out the noise of the day, the stress of your to-do list, and any anxiety or negativity. Stay present and let your breath keep you grounded. 
You'll end up feeling more relaxed, more mindful, and more committed to slowing down, at least for a few moments!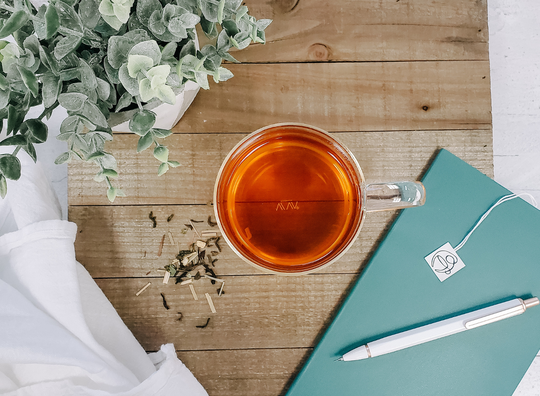 2: Gratitude Practice
How many times have you let one moment ruin your whole day? Unhappy moments in our life create a vicious cycle of negative thinking. We react negatively to a situation, and put out energy for the rest of the day that leads to even more unpleasant events. 
But if we can reframe our thinking and focus on gratitude, we can overcome those moments, stay mindful, and return to a positive mental space. 
Begin each day by focusing on something you're grateful for, no matter how big or small. A warm cup of tea, a shared smile with your spouse, the comfort of your home...let yourself bask in appreciation for a moment before you start your day.
As you move through the day, if you get overwhelmed, stressed, or upset, remember your moment of gratitude. It makes it easier to take control of any situation, refocus on the positive, and move forward from negative moments.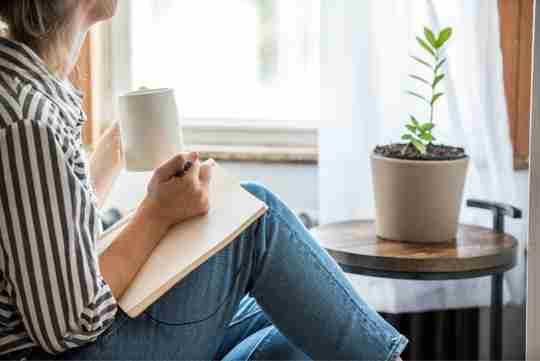 3: The Teamotions Method™
Three Minutes a Day the Teamotions Way
At Teamotions, we believe that tea isn't just about what's in your cup. It's about the experience, the moment of stopping your day and taking care of yourself. The Teamotions Method™ is a gentle yet powerful self-care tool you can lean on anytime you need to slow down and look within. 
Resist the urge to let your mind wander to your busy day while you prepare your tea. As you brew it, ask yourself these mindfulness prompts:
1. How do I feel? 
2. Why do I feel this way? 
3. How will I choose to respond (instead of react)? 
By the time you take your first sip, you will be refocused, mindful, and ready to connect with your emotions in a happy way. Practice the Teamotions Method™ consistently and you'll find yourself becoming more present and more in touch with your feelings.
Teamotions teas are designed to help you channel positive emotions based on your needs. Stressed out and looking for a way to slow down and stay calm? Try Seek Peace. Feeling down and not sure how to move forward? Pour a cup of Have Hope. Explore our teas to find one that resonates with you here.  
Why Practice Mindfulness?
Mindfulness brings us peace, slows us down, and helps us focus on our emotional wellness. Your body and mind will thank you if you prioritize mindfulness, even if your days are full of responsibilities, anxiety, and stress. 
We'd love to hear about your favorite ways to practice mindfulness in the little moment— share them with us on Facebook or Instagram. We would love to get a glimpse into what helps you stay centered, grounded, and wrapped in the warmth of self-care!